The All American Dictionary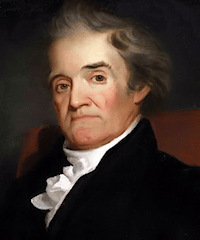 Webster's 1828 Dictionary contains the foundation of America's heritage and principal beliefs. It is contemporary with the American Constitution.
It is an excellent reference for classical literature, Bible studies, history papers, and the ground work of explanation and reasoning for America's national documents.
Christian readers will find it rewarding to compare Webster's definitions of such words as: marriage, education, sin, law, faith, and prayer, with those given in any modern dictionary. The difference gives an appreciation of early American values.
A breath of fresh air in an era of political correctness and subjectivism.
Word of the Day:
Scoff
SCOFF, verb intransitive [Gr. The primary sense is probably to throw. But I do not find the word in the English and Greek sense, in any modern language except the English.]
To treat with insolent ridicule, mockery or contumelious language; to manifest contempt by derision; with at. To scoff at religion and sacred things is evidence of extreme weakness and folly, as well as of wickedness.
They shall scoff at the kings. Habakkuk 1:10.
SCOFF, verb transitive To treat with derision or scorn.
SCOFF, noun Derision, ridicule, mockery or reproach, expressed in language of contempt; expression of scorn or contempt.
With scoffs and scorns and contumelious taunts.